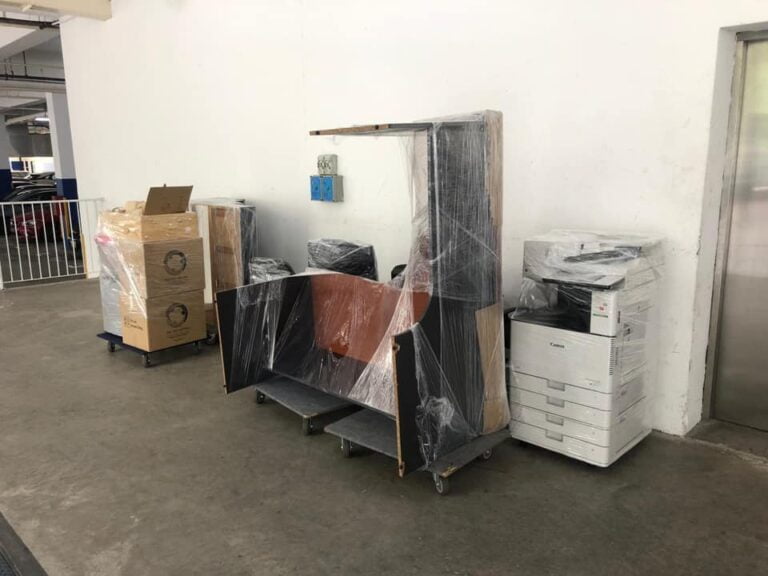 If you opt for handyman services, you would expect the respective work to be managed properly while keeping the safety guidelines in mind. This applies to all the tasks that come under repair and maintenance. If you go with an unskilled service provider, the workers will not be able to offer quality workmanship. There are high chances that they will damage your property or furniture and don't offer good finishing in their work.
But, that's not the case with The Trio Movers! We have professional workers who are highly skilled in their niches like plumbing, carpentry, etc. Hence, you can expect every task completed with high accuracy and precision. Depending on the respective repair or maintenance work, we send separate teams to your home or office with different skill sets. After opting for a service from us, you can expect:
Site Cleanup After Work Completion
While performing property repair and maintenance work, a lot of waste material is generated. Wooden chunks, faulty cables, broken nails, scraped paint, and more such items can clutter up your home or office. At The Trio Movers, we believe in offering total comfort and convenience to our clients through quality service all across Singapore.
For this reason, our team will not leave the site as it is after the completion of the respective tasks. Instead, our workers clean up the space, removing all the waste and unnecessary items. Plus, we offer furniture disposal services, if you have waste furniture lying in your space. This way, you get your home or office repaired effectively without cluttering different sections of the property.
Over the years, our staff here at The Trio Movers has been constantly upskilling, and we still look forward to learning new things and improving ourselves. We have worked on a lot of home & office repair and maintenance projects in the past. That's why our workers have gained good knowledge and skills in their particular niche.
You can rely on our highly experienced team in Singapore, for both interior and exterior maintenance of your home or office. We can suggest the best approach, whether you want to perform plumbing work in your bathroom, or want to fix a gate that makes noise, every time you open or close it. You can count on the experience of The Trio Movers for quality handyman services.
Need to repair your coffee table? Want to install a new hanger in the bathroom? Looking to fix a faulty door locking mechanism?
Whatever your requirements are, if you don't hire experienced and skilled workers, there are high chances of the respective item or property getting damaged. For this reason, you should reach out to The Trio Movers, to eliminate the chances of damage to your belongings during the repair or maintenance work.
Our workers perform every task keeping the safety guidelines in mind. That's why, we are constantly able to provide error-free work while keeping the furniture items, windows, mirrors and other things secure. So, when the repair work is in progress, you don't have to worry that your items will break or get damaged. We also offer storage space rental services if you want to safely store furniture and similar items that can be damaged during the work. With The Trio Movers, you get complete peace of mind while performing residential or commercial maintenance effectively.
Performing repair and maintenance on your own is such a hassle! Firstly, you need to buy the tools and equipment. Afterwards, you need to invest time and effort. Still, there are high chances that you end up damaging your property or the respective item.
At The Trio Movers, we provide you with experts to manage all these things in an effective manner. So, you just need to sit back and relax, and our team will handle the rest! We provide the best service in Singapore, by completing the required task in minimum time using the best practices.
After going through the above points, you should have got clarity regarding why you should choose The Trio Movers for the handyman service in Singapore. We offer the best repair and maintenance services as per your requirement. And the best part is, you don't have to burn a hole in your pocket to avail the desired services. We offer our services at the best market rates, thereby suiting the budget of most Singaporean property owners. So, what are you waiting for? Check out our website for more information!